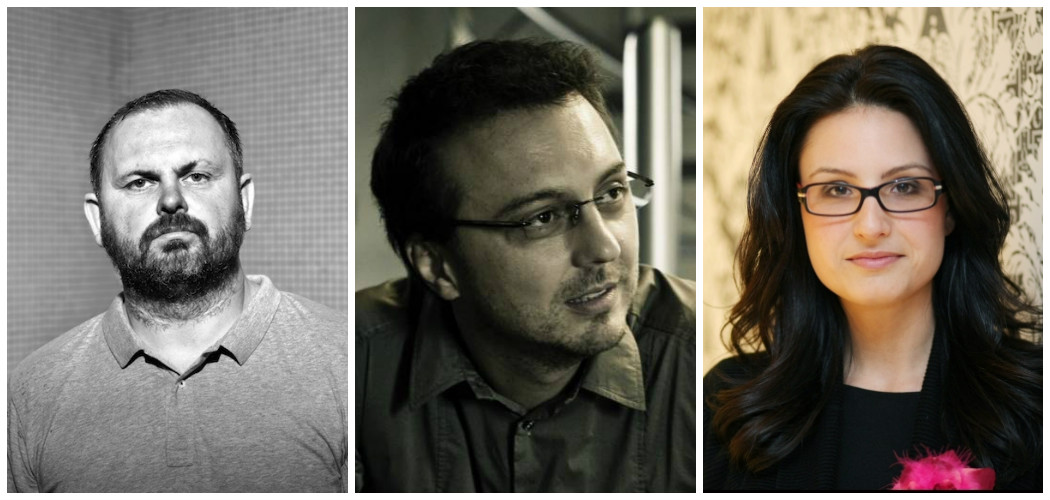 Jury of the Friends and Neighbours programme: Ivan Ostrochovský (Slovakia, producer and director), Călin Peter Netzer (Romania, director), Mia Pećina (Croatia, producer)

Ivan Ostrochovský (Žilina, Slovakia, 1972) co-directed his debut feature documentary Velvet Terrorists (2013), which premiered at Berlinale in 2014, winning the Tagesspiegel Reader's Prize. His debut feature Koza (2015) celebrated a world premiere at Berlinale in 2015. The film received almost 20 awards, among others Neighbours and Friends Award at the 62nd Pula Film Festival, it was in the European Film Award Selection 2015, and was the Slovak Oscar Entry for 2016. Ivan is working on his new feature film The Disciple, which won the CNC Award for Best Project at the Arras Days pitching forum in France. As a producer, he has been running two production companies – Sentimentalfilm and Punkchart films.
Călin Peter Netzer (Petrosani, Romania, 1975) obtained his diploma as film director from Theatre and Film University of Bucharest. His short & feature films (both entitled Maria; 1997) won prestigious awards (Locarno, Grand Prize of the Jury and the Silver Leopards for the actors). The feature film was also nominated for the EFA Awards in 2003. His next feature, Medal of Honor (2009), was selected and awarded at more than 30 festivals, including Thessaloniki and Zagreb Film Festival. Child's Pose (2013) won the Golden Bear and a FIPRESCI Award at the 63rd Berlin International Film Festival.
Mirjana Mia Pećina (Zagreb, 1976) studied for a degree in Marketing and Management in Chicago. During her studies she established CATV, a Croatian programme for emigrants, in Chicago. She launched and worked on the TV show Kapital (CCN) in Zagreb. In 2003, she moved to Los Angeles where she worked in all the fields of film production. She founded and ran the Libertas Film Festival in Dubrovnik (2004 – 2011) and in 2007 she launched the Weekend Media Festival, Idea X, Adria Music Conference and co-founded the Fantastic Zagreb Film Festival. In 2011, she worked with Peter Radovich, Jr. on the documentary film Game of Honor (CBS) that garnered her three Emmy Awards. This was followed by the film Barakude that will be presented at this year's Pula Film Festival. She worked on several Olympics for NBC and the Sochi Olympics garnered her fourth Emmy Award.